In loving memory of our father, best friend, and hero.

William Wells Hendren
08/31/1942 - 03/19/2011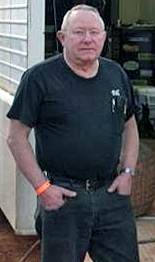 | | |
| --- | --- |
| | |
If your goal is to win races, then you have come to the right place. At
Hendren Racing Engines
, we offer equal service and recognition to all. From lower budget racers, to unlimited budget racers, we can and will take care of you. We are a family owned and operated establishment, with value and customer service at the forefront of our business policy. As a family owned business, we not only build racing engines, we also have our own race team. So, we completely understand both aspects of motorsports. We know what it takes to race, to win, and to keep a family together. Let us help you with your next race engine and we will give you the most Power for your investment. Join us, as many of the top Crate teams in the nation have done, and finally feel for yourself that your engine builder understands you, values your business, and wants to work with you in every way possible. Our reputation comes from making you a winner, the legal way! All of our 604 Crate engines are built the CORRECT and LEGAL way, by the GM Re builders book. You will never have an issue in the tech shed!
Knowledgeable Staff, Affordable Prices
With our knowledgeable staff and vast experience, you receive fast and friendly service. Our turnaround time on freshening your existing engine is second to none. We look forward to helping you in every way possible. We are also very happy to answer any and all technical questions that you may have, even if you are not an existing customer! Give us a call today for more information!
Contact us By phone, email, or simply stop in and see us if you're in the area.
Located in Rutherfordton, North Carolina.
(828)-286-0780
1310 US HWY 221 North
Rutherfordton, NC 28139
Hours of Operation:
Monday–Friday, 8:30 a.m.–5:30 p.m.